21 Dec 2020
Fall is traditionally a time of year to savor that most flavorful of shellfish, oysters. 
The old wisdom was to only eat oysters in months with an "r" because it was harder to keep them cold during hot summer months before refrigeration. Though that's no longer the case, many oyster connoisseurs still find them more flavorful in the fall, with a crisper, fuller taste. If you enjoy oysters, you'll discover plenty of delicious dishes at Savannah's restaurants.
Honestly, it's hard to go wrong with seafood when visiting the area, so broaden your palate on your Savannah fall getaway.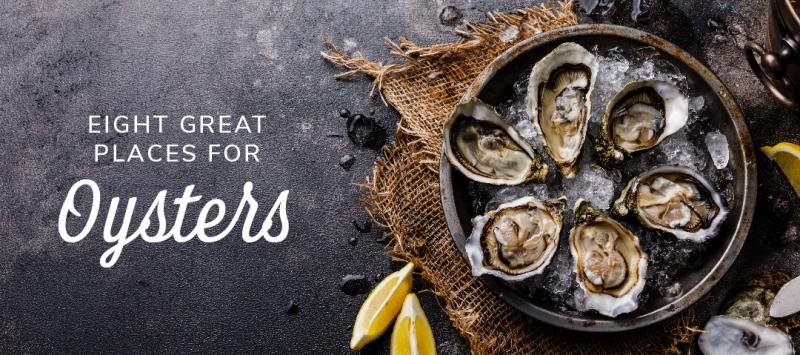 Vic's On The River
Best Dish: Oysters Rockefeller
The Oysters Rockefeller at Vic's on the River is a spectacular appetizer to kick off what is sure to be a memorable meal. Made with spinach, smoked bacon, parmesan and Pernod, this dish is sheer perfection where the delicate flavor of the oysters is preserved.
Vic's On The River
Sorry Charlie's Oyster Bar
Best Dish: Chef's Sampler
Sorry Charlie's Oyster Bar, 116 W. Congress St., serves oysters a myriad of ways from the butter garlic and parmesan roasted oysters to Rockefeller to Bienville to Casino Oysters with roasted red peppers, jalapeno, bacon and aged Parmesan. Sorry Charlie's also offers raw bar oysters that vary daily depending on availability. Or get a taste of several styles with the chef's sampler. 
Sorry Charlie's Oyster Bar
Savannah Seafood Shack
Best Dish: Seafood Cones
The oyster po boys have been described as "scrumptious" at Savannah Seafood Shack, 116 E. Broughton St. This is an old-fashioned seafood restaurant with a laid-back atmosphere, friendly staff and succulent seafood. Those oysters po boys are served overstuffed on French bread with lettuce, tomatoes, garlic butter, mayo, and a creamy house sauce. You can also try a truly unique dish with their seafood cones. You read that right. They fry up the oysters and serve them in a homemade waffle cone, add slaw and top with their creamy house sauce for a one-of-a-kind culinary experience. 
Savannah Seafood Shack
Alligator Soul
Best Dish: Oysters A La Soul
Alligator Soul, 114 Barnard St., cooks their oysters Southern-style but with a unique flair. Their Oysters A La Soul are select oysters served on the half shell and stuffed with a blend of Savannah River Farms bacon, Louisiana crawfish, Trinity Mire Poix, and scallions in a creamy Hilbo-spiced roux sauce. The oysters are then topped with fresh Parmesan breadcrumbs and baked to perfection. Oysters A La Soul are served with fresh lemon and Alligator Soul's Creole Belle Habanero Hot Sauce, a sweet, yet, hot sauce that will have you coming back for more.
Alligator Soul
The Olde Pink House
Best Dish: Cornbread Fried Oysters
When dining at The Olde Pink House, order the cornbread fried oysters, served with their delicious Green Goddess sauce. Order them as an appetizer or have them on the Caesar salad.
The Olde Pink House
Husk Savannah
Best Dish: Oysters on the half-shell with Peanut Horseradish
Husk Savannah takes great pride in hand-selecting their oysters and they offer an awesome selection. Order oysters on the half-shell, which come with a unique peanut horseradish that is out-of-this-world delicious.
Husk Savannah
Salt Island Fish & Beer
Best Dish: Baked Oysters
Enjoy your oysters by the ocean with a short drive over to Tybee Island. Head to Salt Island Fish & Beer for baked oysters served with bacon, bourbon, butter and bread crumbs. It makes a great combo!
Salt Island Fish & Beer
Bubba Gumbo's
Best Dish: Fried Oyster Combo Plate
Bubba Gumbo's is a classic mom-and-pop establishment serving fried oysters, oyster po boys and a fried oyster combo plate. It's a hidden gem on Tybee Island.
Bubba's Gumbo