You are here
Savannah, Georgia is well-known as a coastal city with a lot of waterfront property, which is no surprise considering its 20-mile length of coastline. It continues to be one of the top vacation spots on the East Coast as visitors love exploring the historic downtown of Savannah. Why not make a great vacation even better by booking one of our Tybee ocean view rentals for your stay?
Not only will you be in close proximity to Savannah's popular downtown, but you get to enjoy the peace and tranquility of staying in one of our Tybee beach rentals. Tybee Island has about five miles of beachfront and is known for being quiet and private. A large part of the island consists of marshland and the total population is only about 3,000. Staying in one of our Tybee vacation rentals means you'll get all the quick access to Savannah with the added benefit of an ocean view and beach access.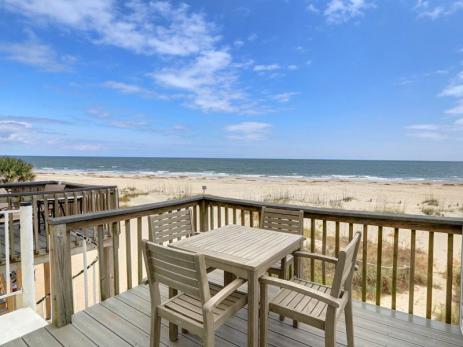 Our Tybee beach rentals are all nicely appointed with modern furnishings and appliances. Along with the ocean views and easy beach access, you'll also appreciate all the coastal decor in our Tybee ocean view rentals. All properties come with full kitchens that have many gourmet touches such as huge counters and stainless steel appliances. Southern Belle provides a host of niceties as well, from flat-screen TVs in nearly every room, to wireless Internet and all the utensils you'll need to cook great meals while on vacation. We also include a washer and dryer in the units so you can feel good about booking an extended stay. Each property has a patio or deck available to help you fully enjoy that amazing ocean view and ocean breeze. The Tybee ocean view rentals provide you with several options in terms of the size of your party. We have two-bedroom, one bathroom properties that can accommodate as many as four guests but can also work just fine for two guests. Larger parties will find the four to six-bedroom properties more to their liking. One of our properties can even host as many as 16 guests! When we say we have properties to fit any type of vacation plans, we definitely mean it. Our selection of Tybee vacation rentals can't be beaten!
Inside our Tybee beach rentals, you'll find roomy bedrooms and living areas that are fully furnished. You won't have to worry about staying cool either as properties have air conditioning and ceiling fans in nearly every room. Some of our Tybee ocean view rentals are also located on the North Beach section of the island, which is a more private area with more locals than tourists. This is a great choice for families with young children.
_______________________________________________________________________
Tybee Island itself has plenty to do for guests, so if you just want to relax in one of our Tybee vacation rentals and explore the island at your leisure, you can do that too. Many of the activities available on Tybee Island involve the beaches and water. The Tybee Marine Science Center is a popular attraction that centers around educating visitors on the island's diverse ecology. Along that same vein, the Tybee Beach Ecology Trip takes guests out on a trek to observe high and low tides and beach habitats. The most visible and popular attraction is undoubtedly the 270 foot tall Tybee Lighthouse and its adjacent museum.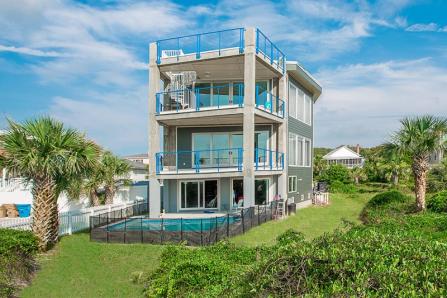 Tybee Island is only a short distance from downtown Savannah and if that's your goal on your stay, you'll have no problem getting to all the city's exciting attractions. Before you leave Tybee though, you might want to check out a few of the island's attractions such as Fort Pulaski, Tybee Bike Tours, or take a charter out to look for dolphins. Captain Mikes Dolphin Tours and Captain Dereks Tybee Dolphin Adventure are two options for viewing the wild bottlenose dolphins that live in the waters around Tybee Island. For restaurants, the Tybee Island Crab Shack is a popular dining experience. The restaurant is right on the water with an amazing view and it's well-known for its delicious seafood samplers and margaritas. Before you eat, you can have fun feeding the alligators in the nearby lagoon and view the exotic birds on site.
If Savannah is your destination, then you can get there by taking the 80 right into the downtown area and then take one of the surface streets north. Probably the best introduction to Savannah is the Old Savannah Tours. The tour claims to bring Savannah's history to life and they do it in unique ways, such as having historical reenactment actors board the trolley at times during the tour. Another essential Savannah stop is River Street. You could easily spend an entire day or more on River Street exploring all the shops, restaurants, and galleries.
Whether you just want to relax in your beachfront home on Tybee or absorb the historic charm of downtown Savannah, Southern Belle's Tybee vacation rentals are the perfect way to do either or both. Book one of our great properties today and let us make your vacation even better.
_______________________________________________________________________