28 May 2018
The Rock 'n' Roll Marathon in Savannah is an event that race organizers facilitate throughout the country in cities like Las Vegas, Portland and our very own Savannah. To encourage racers, marathon planners line the race route with live rock bands and cheerleaders along with the competitor's supporters.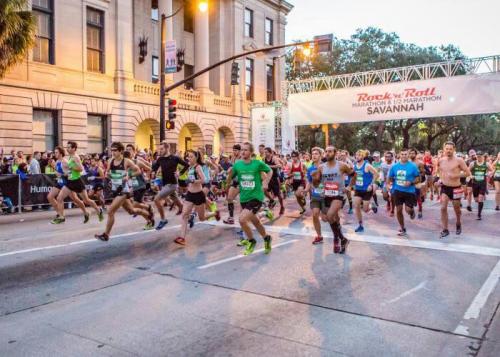 Rock 'n' Roll Marathon in Savannah
You'll find charming accommodations in Savannah through Southern Belle Vacation Rentals. For instance, you can reserve the Parlor on Park, which is a two-bedroom home in Savannah's Historic District that is within walking distance to Forsyth Park. The home features extras like fireplaces in the bedrooms and living rooms along with a full kitchen and two bathrooms. The affordability of the accommodations is a pleasant surprise, and after the Rock 'n' Roll Marathon, you'll welcome the chance to go sightseeing in our charming city, which features cobblestone streets, classic oak trees draped in Spanish moss, and cultivated gardens.
Luxury Home Rentals
We also offer luxury home rentals near the ever-popular River Street. Our Champagne Suite rental property includes a newly renovated kitchen with granite counter-tops and plenty of cabinet space for food and snacks. However, since our city features delectable dining establishments, you may not want to cook. With two bedrooms and two bathrooms, you can share the rental with another couple, or if you are bringing your children, then there is plenty of room for them. While near River Street, you should consider reserving a tour with one of the riverboat companies. During the cruise, you'll learn historic details about Savannah and hear entertaining stories.
Explore Unique Boutiques and Dine in Local Savannah Restaurants
Additional places to stay during the Rock 'n' Roll Marathon include our Broughton Street Loft rental. The location allows you to participate in our city's nightlife, explore unique boutiques and dine in local Savannah restaurants. The loft has a washer and dryer for your sweaty marathon clothes and a bathtub where you can soak your tired muscles.
After participating in the Rock 'n' Roll Marathon, you may consider extending your stay to enjoy our picturesque city. While in Savannah, you can eat authentic southern food, shop and sight-see.