16 Oct 2018
In Savannah, Georgia, you will find a place like no other. There are so many amazing sights and opportunities that it can be difficult to decide how to best take advantage of everything. That is why we are thankful for opportunities like those provided by Segway of Savannah, where you will find one of the most fun and immersive experiences in town. Spend some time getting to know this incredible city with Segway of Savannah.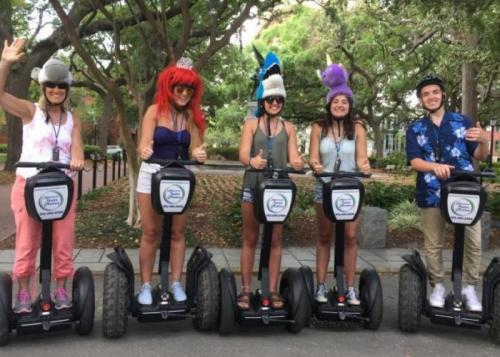 A Crucial Savannah Experience
There is so much to see in Savannah, and there is no better way to see it than by gliding along the charming streets. The tour that started it all is still their most popular, the one-hour Historical Square Tour. Throughout this experience, you learn that the historical center of this town is built on 22 squares that each feature something unique. You can find a wide range of architecture, history, and modern establishments throughout this charming area. 60 minutes is a good amount of time, but if you really want to soak this amazing area up, opt for one of the longer tours in the Segway of Savannah.
You can also book tours of some of the most awe-inspiring cemeteries in the city. This sounds a bit morbid, but it is actually a beautiful experience that delves into the story of this incredible place. If you want to get a bit more active, then look to one of their classic walking tours. If there is something in particular that you want to see throughout Savannah, then you can work with the professionals here to design your own tour. Give them a call at (912) 233-3554 to learn more about their services and to book your experience today! Find them at 234 Martin Luther King Jr. Blvd.
Put Yourself in a Beautiful Home
Having a few ideas about how you will spend your time is always a good thing when going on vacation, but perhaps the most important thing is ensuring that you will be staying in a place that you will love. This turns your downtime into moments that you will never forget, and it's what we provide at Southern Belle Vacation Rentals.
Not only are homes themselves beautiful, but the accommodations within are sure to be one of your favorite places to relax and spend time with good company. This is facilitated by wide-open floor plans, amazing furnishings, gourmet kitchens, comfortable bedrooms, and charming patios the likes of which you can only find in the South. Whether you need a place to rest or a place to celebrate, you will find the perfect one with Southern Belle!