27 May 2013
Trolley tours are a wonderful way to get to know the gracious beauty and warm charm of Savannah. Not only are these Savannah trolley tours a fun way to get around, they are also informative and inexpensive. We truly believe that hopping on a trolley tour is the most convenient way to get to know our lovely city while you are staying at one of our Southern Belle Vacation Rentals.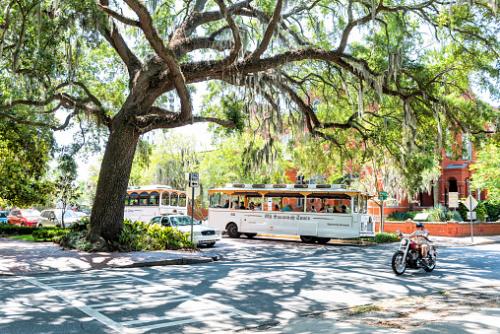 Old Savannah Tours
So if you've never been on one, you're probably wondering what exactly you can expect from a trolley tour of Savannah. First, there are three lovely companies that offer trolley tours of Savannah. They are Old Savannah Tours, Old Town Trolley Tours, and Oglethorpe Trolley Tours.
If you travel frequently, you've probably seen similar trolleys to Old Town Trolleys. This company's vehicles have an orange bottom and a green roof and their conductors give live narrations as your tour progresses. A ticket purchased online for an Old Town Trolley Tour costs $25.19 for adults and $9 for kids, ages 4 through 12. The regular price is $27.99 for adults and $10 for kids. Children under four are free.
Old Town Savannah
Old Town has 15 Savannah trolley pick-up locations, including stops near Savannah History Museum, Savannah Civic Center, Roundhouse Railroad Museum, City Market, Juliette Gordon Low, Sorrel-Weed House, Georgia Historical Society, King Tisdell Cottage, Davenport House, the Pirates House, Massie Heritage Museum, Cathedral of St. John, River Street, Wesley Monument, Telfair Museum of Arts, Franklin Square, and Eugene Talmadge Bridge. You can hop on or hop off at any of the stops. Unlike regular guided tours, you are the boss on a trolley tour, so you can stay as long or as little as you want at the various sightseeing locations. Once you've seen what interests you, you can just hop on the next trolley. Because Old Town's trolleys cycle through each location every 20 minutes, you'll never have to wait a long time for a vehicle.
If you're interested in taking the Oglethorpe Trolley tours, look for the blue trolleys at the various Savannah pick-up locations in our city's Historic District. This Savannah trolley costs $19 for an unlimited hop-on, hop-off ticket, but you can also look for online deals.
Oglethorpe Trolley Tours
Oglethorpe Trolley Tours, which is owned by Grayline, also offers fantastic frightening, can't-miss haunted tours of the city. This is a 90-minute, narrated spookfest of a city that is considered by some as "America's Most Haunted City." This Savannah trolley costs $20.33 for adults and $10.70 for children that are between 5 and 11 years of age. This tour stops at Mrs. Wilkes, Mansion on Forsyth, Cathedral, Colonial Park, Juliette Gordon Low Birthplace, Pirates House, Reynolds Square, Exchange Bell, Bohemian Hotel, Dockside and City Market. Children under five are free. Check online for special deals, as well, before purchasing your ticket.
You'll definitely be entertained on an Old Savannah Trolley Tour. This company is owned by locals and enlivens its tours with historical re-enactors. You never know when a period-dressed character might show up on your trolley to share a bit of our charming city's history. Stops include the Savannah Visitors Center, Savannah Theatre, Sorrel Weed House, Forsyth Park, Cathedral of St. John, the Pirates House, Washington Square, Owens Thomas House, Juliette Gordon Low Home, City Market, Reynolds Square, River Street, Franklin Square, City Hall, and Exchange Bell.
In addition to its hop on and hop off tours, Old Savannah also offers several other versions as well including a haunted tour and another that focuses on Chef Paula Deen. Even better, if you've brought a pet that weighs under 25 pounds with you on vacation, it is welcome on the tour as well! This Savannah trolley costs $26 for adults and $11 for children, but check Old Savannah's website for online deals.