18 Jan 2021
Tybee Island, on the Georgia coast, is a great destination spot all year round. But there are a few things to consider when planning your trip to this beachside town.
Weather on Tybee Island
Weather obviously is going to have an influence on when you visit. Typical temperatures range from +/-35° in the winter to +/-88° in the summer. Plan your visit for the temperatures you feel more comfortable with and for the activities you plan to be doing.
Summer Weather
Summers are hot and very humid, but the temperatures usually peak in the high eighties. The highest temperatures are typically in July, but even then, the prevailing ocean breeze keeps things cooler than it will be inland. The 'hottest' time of year begins near the end of May and can last through September, and it can seem a little oppressive due to the humidity. August is usually the wettest month, but those afternoon thunderstorms can cool things off, so the rain isn't altogether a bad thing.
Winter Weather
Winter temperatures are cool, but it can get windy. If you can handle a little wind, a walk on the beach in the dead of winter can still be pleasant as you search for that perfect seashell. Although winter at Tybee seems short – cooler temperatures start in December and last through February. Typically, things start to warm up in March.
Hurricane Season on Tybee Island
And, don't forget – hurricane season (June 1st through November 30th) could impact your trip. Of course, if you are a surfer, a little rough weather can be something to look forward to. It's just a matter of perspective.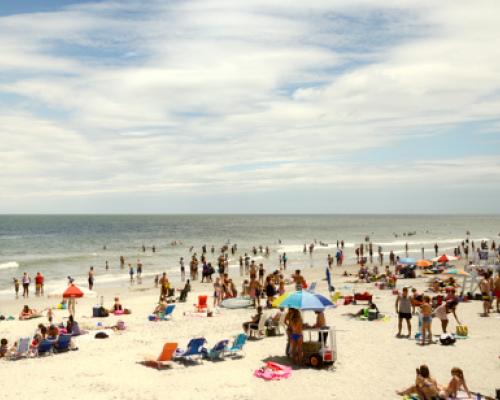 The Season
The beach can get pretty crowded during the peak summer months, especially at holidays and during festivals. Be sure to take a look at the events happening during the time you plan to visit.
If you want a quiet retreat, you may not want to visit during a holiday (Memorial Day, Labor Day etc) or during an event (Orange Crush weekends for example).
But, if you crave crowds, noise and excitement, then those may be the dates you select. Fireworks on the beach can be a wonderful experience but they are even better when shared with a crowd.

The Best Times
For the typical visitor who wants to enjoy some outdoor, warm-weather activities and no extreme weather, the "best" time of year to visit is from early April through late May, and from late September to the early part of November.
"Peak tourist season" is mostly in the spring and summer and ends just after Labor Day. August seems to be the busiest month, so make your reservations early to beat the crowds.
For those looking for a quieter, more relaxing stay, schedule your visit for "off season." Not only can you save a little money, but you can avoid most of the crowds!
Book Your Stay on Tybee Island